Why Businesses Are Now Converting Leads Using Facebook Messenger in 2021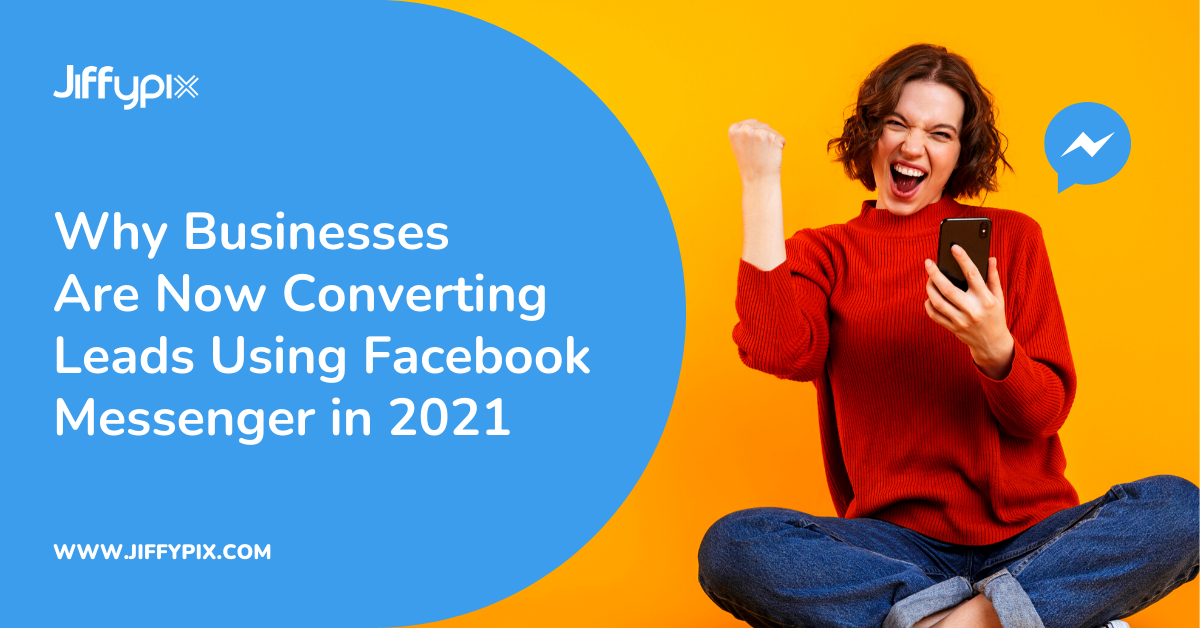 Just recently, Facebook Messenger started to emerge as a new digital marketing strategy, it has been reported that it now has 1.3 billion active users per month, and it has become a great way to connect with your followers and customers in a more human way.
From large corporations to the corner inn, Facebook Messenger has become part of a new sales system thanks to being an easy, fast and accessible tool for everyone.
Talking with your customers, sending information and making sales are not the only options you can experiment with using Facebook Messenger, although they are part of the main reasons why it was integrated into the sales process of many companies.
For this reason, we have created this guide where we explain what Facebook Messenger consists of, and how you can take advantage of this powerful tool.
What is Facebook Messenger?
So… what is this app and why is everyone talking about it? Facebook Messenger is an application intended for instant messaging, which allows you to not only send text messages but also to make voice and video calls, both in individual and group chats.
If you have been using Facebook long enough, you will remember that it was called Facebook Chat – which was completely integrated into the social network, until 2012 when it was separated into another application and became what we know today as Facebook Messenger.
Why is Facebook Messenger Now Becoming Very Important In Marketing?
There are many ways to make Facebook Messenger play a bigger role in your marketing strategy.
The use of bots for e-commerce is probably the first thing that comes to mind, as it is an excellent resource that more and more companies are using and customizing, but this goes beyond just configuring it.
For example, some companies are hyper customising their bots so that they become one more sales agent, and that they fulfill functions such as:
Guide users in their order.
Send files as ebooks, depending on the user's responses.
Create automation for the flow of a conversation.
Orientation and acquisition of leads.
Various functions of community management.
As in many digital strategies, using Facebook Messenger implies a reduction in costs, which helps businesses obtain a better return on investment due to various reasons;
among them are having customer service on your Facebook page 24 hours a day.
Although it is true that the organic reach of Facebook has decreased during the last 5 years, it has taken a lot of force in the field of outbound marketing with paid ads, allowing you to segment in a better way.
And what about the users who are interested in the ad? They usually ask for information in the chat, and hence the importance of the bot.
Advantages of having a Facebook Messenger bot:
It is available all the time, so no messages are left unanswered.
It offers specialised technical support in real time.
Answers to frequently asked questions can be customized, saving time.
As it is automated, all responses are immediate.
No advanced programming knowledge is required to configure and customise it.
Segmentation can be used to classify leads.
Allows redirection to other parties such as website, email, phone call, video call, etc.
It can be integrated with other applications and even on your website. (Facebook Messenger for companies)
In addition, according to data from Facebook, Messenger has around 1.3 billion active users, which makes it more likely to establish contact and obtain more conversions than in other platforms or strategies such as email marketing.
Also, keep in mind that around 80% of smartphone users use this application, and they check their phones about 100 times a day.
We are talking about the advantages that you can get with Facebook Messenger without having to pay. We all know that one of the impediments to trying new technologies is that we do not see them as something easy to do or we believe that they imply an extra cost.
This is a very important factor, especially for companies that do not have a marketing department or that have to carry out their own campaigns, monitor them and optimise them.
Also, start-ups or small businesses may not be very familiar with digital marketing or may not have the resources to experiment with paid ads, or to hire outside services.
The ease with which you can implement a bot and configure it is one of the reasons why any business – no matter how small – should use it. Especially because, despite its growing popularity, there are still many companies that don't give this tool the opportunity, which gives you a great advantage over the competition.
Also, using Facebook Messenger doesn't have to be exclusively just for Facebook. Do you remember that it is already a separate application? Platforms such as Webflow or WordPress have plugins for you to take your chatbot directly to your website, which would allow you to implement conversations and interact faster with users.
This is another reason why conversions on Facebook Messenger are higher than on any other Facebook strategy.
Facebook Messenger as a growing strategy
It is estimated that in 5 years chat interactions will be the norm. Even now, the open rate is 3 to 5 times higher than in email marketing, meaning that a user is more likely to open, download or have an interaction via chatbot than to open their email.
In addition, there are many possibilities with the use of Facebook Messenger, since it is not just text. It allows you to:
Send voice messages.
Share images.
Share Stickers.
Send GIFs.
Attach files.
Start a voice call.
Start a video call, up to 50 people.
And best of all, you don't need to get the lead's direct email in order to interact with them. The conversion rate on this platform is 80%, higher than the approximate 31% that email marketing has.
As in the rest of the automations we do in inbound marketing, the information or data that we obtain from our bot can tell us how to redirect our efforts so that we can refine our responses and processes.
One of the objectives of doing digital marketing is to be able to obtain a greater return on investment and explore communication channels in which we spend a large part of our time.
All the strategies are aimed at making customers find us, but also to make them not feel that we only want to sell them. With Messenger, direct contact guarantees us the opportunity to have a more personal and friendly contact. That is why it is important that you take care of the messages, so that you can provide the user with real assistance, and thus have a better experience.
Configuring your chatbot allows you to have more and better strategies to:
distribute your content
guide your users
give them the information you need them to have
How to configure Facebook Messenger for your company?
You already know what this app can do for your company and now is the time to implement it.
It is important to know, as with ads and other strategies, if you want your chances of sale to increase, you need to combine your chatbot with other strategies. You can start with content marketing or attraction marketing.
Set up your Facebook page
The first step is a bit obvious, but there are some very important aspects that you may be overlooking that have a direct impact on your Messenger and bot configuration.
Summarizing the process to create your fanpage, we have the following steps:
Marketing planning: Everything that has to do with your brand's digital strategy, buyer persona, personality, language, type of content, charisma, etc. It is a somewhat long process that must be accompanied by a good marketing team.
Name of the page and the category: You have to think very hard about the name you will use, because it will also be the one that will be shown in the chat. It is also necessary to choose the category, that is, the sector in which you operate.
Provide information about your business: You have to fill in several sections of information on your page, to facilitate everything to your users. This includes the telephone number, the address, the opening hours of the premises (if any), the mission of the business, the website, addresses of other social networks, email, etc.
Add a profile photo with the appropriate measurements: This section is an important part of your branding. Depending on the logo you have, you can play around with the colors and spaces. The main purpose is that only with your photo can you convey the personality of your brand.
Segment the public: This section is very important for your page to stand out in a certain sector.
Activate the messages on your fanpage: In the general settings part, there is a section called "messages", which when activated allows anyone to contact you through chat.
Configure the messages: In the same message section, you can configure some aspects such as response times, that is, it shows how long you usually attend the chat. In the same way you can configure some automatic responses, but if you plan to use a bot then you can skip this step.
Insert your Facebook Messenger chat on your website: This can be done by going to the Facebook configuration section, then Messenger platform, Chat plugin with clients, finish configuring so that it generates an HTML code automatically, which you must paste in the header of your website. Although another simpler option is to do it directly from the WordPress CMS, in case you use it.
Configure your chatbot
First choose a name that goes with your company's brand. The most recommended is that it goes according to the branding, but you can experiment if you wish.
This will also be useful for when you install your chatbot on your website, since it will allow you to offer information or services to your customers, filter them by their needs and have a better obtaining of leads. With a chatbot you can discover what the user who visits needs, and not have to wait for them to contact you or leave their details.
Configuring the bot also means establishing a series of commands that it will follow . For example, in addition to welcoming, Your bot asks users directly if they want to speak with an advisor or find out about your services or products.
This is very important because you can guide your leads to better understand their needs and at the same time it helps to let them know what you are offering and that you are on the same page.
You can customise different messages and it is very important that you take into account what you need according to your business.
For example:
If you sell clothes, perhaps one of your customers' concerns is what your location is or being able to access your size catalog.
If you sell food, the service hours or if you perform home delivery is more important.
The objectives and needs of your company are what will determine how to proceed with your digital marketing strategy. It is also very important that you are always aware of your bot. The goal of having one is to make the conversation seem fluid and natural so that the user feels like they are chatting with someone real, however, this is a matter of trial and error.
As we have already mentioned, Over time, you also will need to work on improving your processes, and the only way to do that is by analysing how your bot has been working so far.
The analysis of results can give you clues about what type of words will work best for you, what messages you have yet to add, or what questions your leads will ask you.
Facebook Messenger for Companies
Distribution of content and following up on leads. Maybe you had already thought about it but the chatbot can help you better distribute your information and content than other strategies, especially because like Facebook Ads, you can segment perfectly.
Segmentation. A powerful tool for Facebook Messenger as this allows you to reach the right people with the right information. You can segment to create and customise different strategies according to the needs of your audience.
The same happens with the ads through this platform, because it helps you distribute and make these ads more viable, since you know who they are going to show them to. Also, remember that they are more likely to see your ads via Facebook Messenger.
You can even use your bot to distribute new events or content for cold leads, who did not have the resources at the time, or who were interested in another type of service.
At the same time, a bot can give you an excellent pretext to run follow-up campaigns. Not only can you ask your customers about the service and what you could improve, but you can also offer them other types of services that complement their purchase, or give them relevant information about the product they have just purchased, a guide for its use for example.
The objective of follow-up campaigns is to ensure that your clients understand that you care and that if the time comes, they can recommend you to their friends, family and acquaintances.
You can mega optimise your chatbot so that, according to your needs, in some cases it is being used to make sales for the company.
Facebook Messenger, a must for Brands
Using messaging applications such as Facebook Messenger and WhatsApp Business are now on the latest trend in terms of digital marketing, since millions of messages are sent through these apps every day.
Configure your bot and start making it profitable, insert it on your website, make it part of the sales process of your customers, create a personality so that your leads do not feel that they are talking to a computer, etc. Your brand and your return on investment will thank you.
Furthermore, it is already a reality that bots for WhatsApp will soon be part of the same strategy.