Nonprofits: Why Social Media Matters to Boost Donations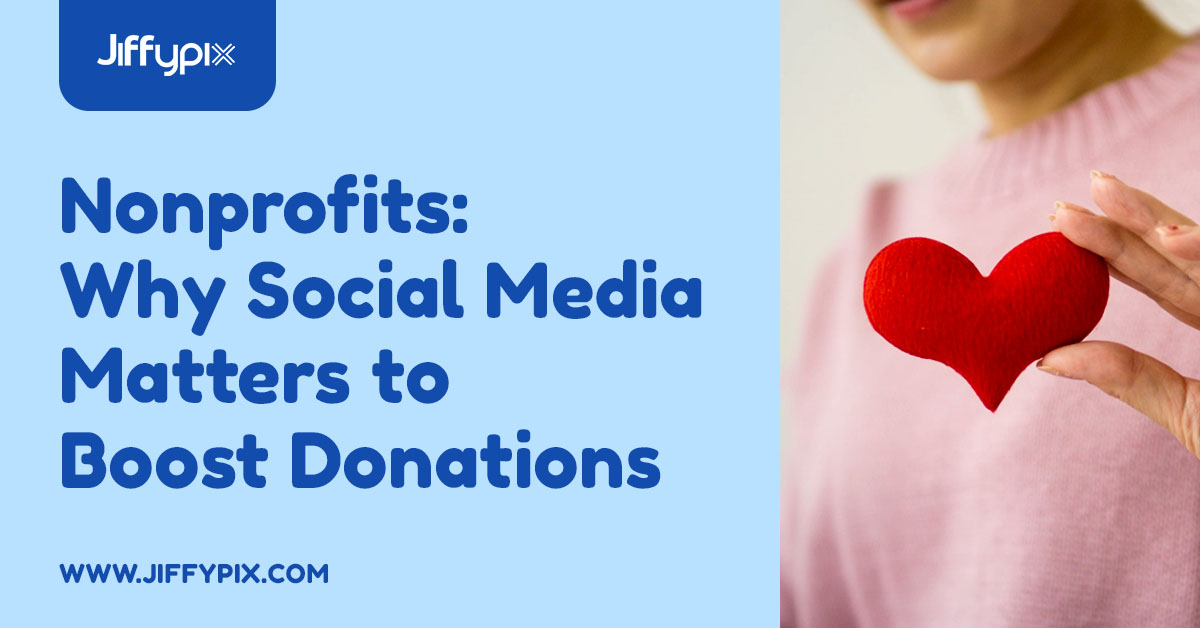 In the midst of the Covid-19 dilemma, nonprofits have actually dealt with hefty economic burdens. Their services have been in constant demand by many which put a really great pressure on their resources, also their capability in recruiting volunteers and organising in-person fundraising events have been decreased due to many global restrictions being implemented.
Nonprofits rely solely on donations to keep it going. During this pandemic, organising events for a cause has become really tough. For instance, Last December, it was reported that Fundraising activities have experienced a major drop, down by 18% compared to last year.
Nonetheless, through social media networking and campaigns, there are strategies nonprofits can utilise to be able to achieve their marketing objectives. As more people have become more attached to their mobile devices all throughout this pandemic, they are offering nonprofits with a great opportunity to capture their engagement.
When you run a nonprofit, you'll be surprised to find out that there are lots of unique opportunities that social media offers, and will enhance your organisation's success!
Benefits of Social Media Marketing for Nonprofits
Social media networks are an amazing asset for nonprofits. Here are the fundamental advantages:
It significantly increases the reach of target audience (billions of people are using it on a daily basis)
It can convey the mission of your nonprofit organisation
It is a powerful tool to encourage more volunteers to join and grow your organisation
It can help draw in new and committed donors
It offers free online media posts
With each social media post, you can easily put links to your donation page.
It allows more participation from your audience with every interactive post.
Most Popular Social Media Platforms For Nonprofits
While there are many social media platforms out there, here are the most popular ones used by many:
1.Facebook
It has more than 2.8 billion active users per month, This is the most popular social media platform and it is where new and established nonprofit organisations achieve their successful campaigns.
Strategies for success in Facebook:
The shorter the Facebook posts are, the more successful it can be since people don't often want to read long paragraphs. When writing longer posts and the action link is at the bottom part, your audience may never see the donation link. Ideally, donation links must be put at the beginning of your posts, then brief copy to follow.
Facebook hashtags must be included in your posts to help promote your nonprofit organisation's content. This will surely gain you more subscribers. When using hashtags that prospective donors are typically using, it will increase the visibility of your page, generating more donations from people who found your nonprofit through Facebook.
To gain more subscribers on a Facebook group or page, it is important to post other people's posts on Facebook. It will help you target people similar to your supporters and prospective donors to increase their level of engagement.
Sharing live events on Facebook. This enables your supporters to have real-time updates on your fundraising event thus encouraging them to instantly make donations.
Also consider running a survey on Facebook to boost engagement and followers.
Ask your supporters to share their connection with your organisation by putting a tag to your nonprofit into their status section.
2. Youtube
With 2 billion active users per month, and it is an online video sharing platform owned by Google that is very popular. Lots of businesses, nonprofits, and influencers are now on Youtube promoting their products and services.
Generating video content can cost a lot of money and could take a longer time to create compared to other types of content. However, this kind of content is the most powerful one when it comes to higher audience engagements. You can create simple and trendy ways to film video contents, even when you are just at home or in an office.
Strategies for Youtube success:
Setting up a Youtube channel is very important in your social media marketing program. A central channel established and optimised for search engines is definitely something your nonprofit organisation needs to have. If you get lucky, you might even make money out of it if you become viral.
Raising awareness of global issues through videos as well as educational content is a proven way to make your nonprofit organisation visible to others.
3. Instagram
Over a billion monthly users, it is a photo and video sharing app that is owned by Facebook. Instagram is known to be popular among the age group 18-34.
Strategies for Instagram success:
Use of hashtags are very important on Instagram. You need to use them when posting content. It helps build followers since people search hashtags for related contents they are interested in.
DID YOU KNOW?
Instagram is also popular for sharing live events which nonprofits can use to share their fundraising events. It enables subscribers to actively participate in donations. Your nonprofit will get more followers when hosting interactive Q and A sessions across your IG stories.
These are seen more often than the usual IG posts. Users are happier to watch stories than scrolling the entire IG feed. Presenting your best stories will increase your following and inspire more donations. It's very easy to get donations by adding donation stickers into your IG Stories. Moreso, by sharing these stories on Facebook, you are also allowing your Facebook followers to utilise the donation sticker.
Mentions of other organisations or individuals you are working with on your stories and posts will increase engagement and online presence. Also, Instagram has this feature which allows your nonprofit's account to post your location giving your content a broader target audience reach and an established credibility. You may also apply these features to FB stories and posts, and post the same shared content on IG to other linked social media platforms like Twitter.
Reaching out to established influencers who might be interested in helping your nonprofit, you can ask if they would be happy to include a mention of your organisation on their content
4. Twitter
over 330 million users per month. It is a site wherein people interact and post with other users through messages that are known as "tweets." A lot of businesses are using this platform to get more online visibility and engagement with their consumers.
Strategies for Twitter success:
Your bio on your "About" section on your profile must have a uniform and clear message for new people. You need people to care and understand what your organisation is all about so they will be confident in donating to a cause.
The easiest way to get more followers is by promoting your account across other social media networks. Syncing your nonprofit's other social media accounts to each other attracts more subscribers and helps grow the number of your followers.
It is important to always be consistent with your choice of words and if necessary, attach images or videos to each tweet.
Post daily. Posting frequently with the use of hashtags are always proven to get good results in making people discover your nonprofit's account. Providing higher chances of engagement.
Grow your followers by your consistent interactions with other users. Social media platforms are widely used for instant messaging. Therefore, social media is always about reciprocation and interactions. Interacting with other users on Twitter could lead them to share your nonprofit organisation's account and content with their followers that can help grow your supporters and following.
Twitter's 'live tweet' allows your followers to watch real-time updates from your fundraising event increasing the chances of you getting people who will be interested in sending in their donations. Just like Facebook, Live events are a way to get instant donations.
Using the Twitter poll is definitely something you need to do. It allows you to create your own survey and see immediate results. Surveys generate more interactions for your nonprofit because it requires more effort than just reading posts or watching videos. If someone votes on your Twitter poll, there's a high probability that they will be sharing this survey to their own profile which is something that will gain you more audience and boost your followers.
5. Pinterest
Over 469 million users visit this platform on a monthly basis, This platform is known for the use of sharing visual content to promote and record.
Posting on Pinterest can promote an organisation, a brand, or a business. For nonprofits, it is a portal to use in posting some high quality visual content to serve as a supplemental interactive tool to be used in driving traffic to your website.
Pinterest is where people get inspiration for them to take action.This platform gives nonprofits a solitary way in sharing their causes and encourages support from other people.
Strategies for Pinterest success:
Posting infographics is definitely a must. Sharing infographics that convey vital information about your nonprofit organisation will lead to more people clicking on your website.
Pinterest works well for donation collections and product selling. It can be used for selling items related to your cause. Simply put your donation page link on your pinterest images.
You can save donation landing pages of previous fundraisers. Use the feature 'Pin Legends' should a user find the event's past success, the pin refers them to some relevant opportunities for fundraising. Using Pinterest for networking, like finding relevant accounts that may be interested in following or donating to your nonprofit organisation. Alternatively, it is also good to interact with influencers who display great passion about your cause and ask them if they can kindly promote your charity works on their Pinterest account.
Promote other pins that are focused on charity. It's good to build up these pins during the gift-focused season/holiday as this is a time where people tend to be generous and cheerful; note that people also use this platform when looking for gift inspirations.
6. LinkedIn
Over 311 million active users per month and over 741 million professionals are very active on this site. It is a top platform focused on employment networking.
Nonprofits can use LinkedIn to direct message professionals who are involved in philanthropy or social development works. Big companies often have senior associates who organise donations and nonprofit partnerships, these people can be found on LinkedIn. You can use the platform to connect and develop a relationship with them for your cause.
Strategies for LinkedIn success:
Networking is common here among professionals, so connecting with a donor, especially now that we are facing a global crisis, is the best alternative to a face to face meeting.
Lots of nonprofits successfully used LinkedIn to recruit talents. LinkedIn can help in finding new volunteers, team members, and board members.
They also have this "status" function. You can update this status to present associated facts and request donations from your supporters.
Use the "groups" feature to join various groups who are related to your cause. You need to try and post to these groups regularly to create more visibility and gain more contacts.
Post articles on LinkedIn. Posting articles that are talking about your nonprofits success stories help inspire other people and encourage aspiring volunteers to join and be part of your organisation. It inspires others to make a change in their lives.
7. TikTok
With now over 1.1 billion active users per month. It is a platform that involves sharing short videos, it has become the most used platform by the Generation Z. Using this, you are able to make videos that relate to a hashtag that is on the top trend.
Strategies for Tiktok success:
Dance challenges are popular on TikTok and a great way to inspire donations.
A lot of big non profit groups have been using this platform a lot to share their volunteers doing the trending dance challenges and it is guaranteed that many users are going to notice you instantly.
Nonprofits can take advantage of sharing informative content as a way to promote awareness. These can be made in the form of short Tiktok videos. Just be sure to come up with something very creative to capture the attention of your target audience.
More advice on social media networks for nonprofits:
Here are some general tips to keep in mind whatever platform you are using.
Posts must be continuous and be done on a regular basis. Nonprofits who are successful with social media typically post daily content. Not posting regularly fails to build engagement with your audience.
The profile of your organisation on each social media site must have a biography, image, and a clear mission statement.
Relevant hashtags must be used, like #savetheearth or #fightcancer. People use hashtags in search of accounts with content that they are interested in.
It is recommended to use post scheduling software tools.
Monitoring the statistics of your posts is needed. These are the number of likes, follows, comments, and traffic to your website from your social media posts.
Use interesting visual content.
Ensure every post links to your nonprofit's website and to the donation page
When messaging, always use call-to-action words, like 'please share this post', 'please like our page' etc.
Post videos: it is proven to give you 10x more "shares" than text and images.
Ensure that your website is promoting your social media links on all pages
Using funny pictures and humor if required.
Always be cautious when posting about controversial matters.
Fast interaction is a must. Respond quickly to messages and comments.
In conclusion, utilising the use of various social media channels for your nonprofit organisation to boost donations and improve your overall online visibility starts with implementing a comprehensive social media marketing strategy. Starting and implementing a consistent strategy can take a lot of time and effort, but it has proven to be a very cost-effective marketing method for many non profit organisations.