Increase Your Social Media Visibility And Get More Leads: 14 Proven Tactics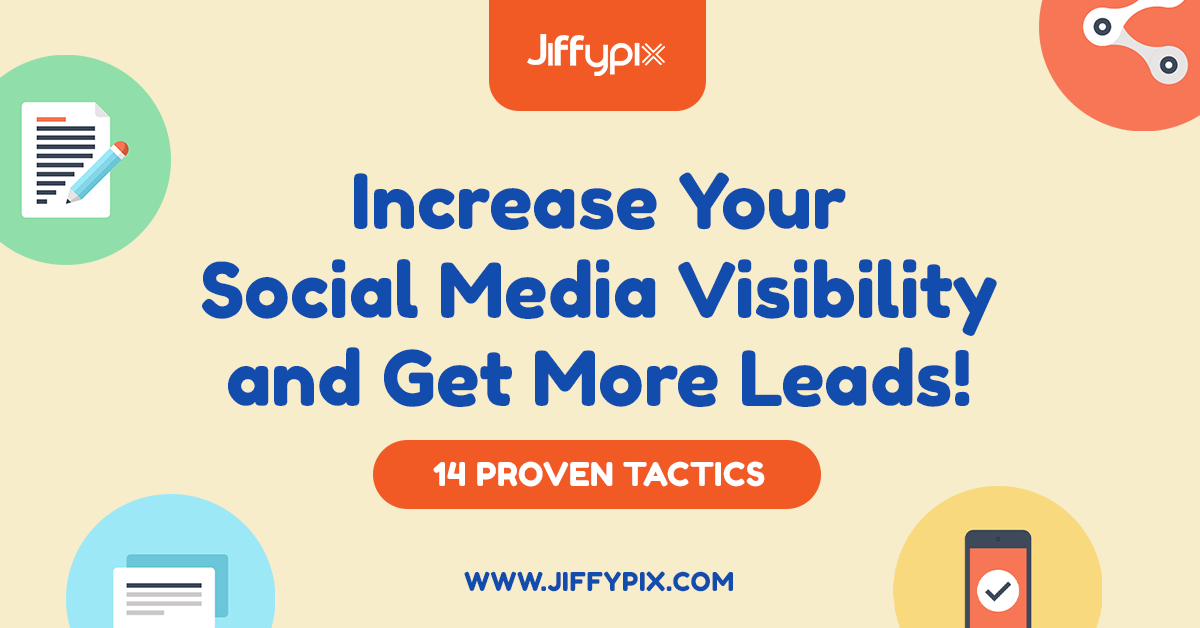 The increased use of social media networks seems to have no end. The one who predicted years ago that we were heading for the social media era, hit the nail on the head without a doubt! Individuals offering their professional services, companies, and brands that are not represented on social media are synonymous with closed businesses, or at least perceived by today's consumers, who are used to searching the internet for products and services that interest them before they proceed to buy.
If your potential leads are on social media, then you should be there too. Your online reputation is highly dependent on how you manage your online presence. Getting leads on social media can be effortless once you have already established success in building and growing your social media network.
Now here's a question for you… Are you ready to hit success on social media?
For sure, you will be facing lots of challenges at first. But you can avoid the most common mistakes a lot of people make when they are just starting to promote to increase their online visibility on social media networks. Just by following these 14 important tips below:
1. Design a Social Media Marketing Plan
The first thing you need to do is set goals for yourself and clarify what goals you are aiming for. From there, you can create a social media strategy tailored to your needs. Having an action plan to follow for your social media strategy is essential. On top of that, you should also look into the other aspects of it such as the design. Posting the right profile and appropriate cover image, and following the aesthetics of your corporate identity are also equally important.
2. Find out about your competitors.
To develop a good social media strategy, it's important to know what your competitors in your networking industry are doing, how many followers, what types of content are they posting, number of comments and shares they have, and what is their level of engagement with their followers.
Once you know all of these things, It will save you a lot of time coming up with the contents you will need because you already know what are the things people in that niche want to see and what it takes for them to engage with you. Therefore, what you will need to do next is to beat their content ideas by creating something that is even better and post them to your social media page.
3. Provide valuable content
Share what you think your audience might be most interested in. Avoid sharing contents just for the sake of having something to post, because otherwise the user will pass by and the algorithm of the social network will gradually grant you less priority, which will cause your impressions in the timelines to decrease.
The ideal, of course, is that you constantly publish your own things that cannot be found anywhere else. As sometimes we do not have time or resources, we can also throw in other people's material such as famous people's quotes, trending memes, infographics, etc. With this, you will continue to offer value to your audience. In addition to making a nod to a company, who knows, one day could return the favor in the future and refer us to clients we couldn't have even dreamed of.
Stay with this mindset: if the users are happy with what they see, they will connect more and more with you.
4. Generate viralizable content
"What we think, we become. – Buddha" Sometimes sharing such words of wisdom on your posts can help a lot in your social media strategy. If you want to make your online presence strong on social media networks and deliver the expected results, sharing should be a priority. Your target audience is there, behind the screen. In social media networks you never know where a client can come from so the more visibility and exposure you get, the better.
Think carefully about how you can do it and use applications to make them. Viralizable messages often bring fantastic results!
5. Make promotions and generate engagement with users on social networks
We continue with content marketing. Challenge users and participate by commenting on the results. Organize contests with the best photo or the best headline, give gifts for no reason and in between, offer great discounts or value propositions when acquiring your service.
That is, from time to time, discounts can be given to those who have purchased or availed of your services. It's a surefire way to get a loyal audience that will be happy to engage and do whatever you ask from them.
6. Look for subscribers
Lead generation is another goal for you. The more emails you have, the more potential clients you will reach when you send out email blasts. To get subscribers on social media networks you can offer a lead magnet such as freebies (perhaps an e-book, free access to your coaching sessions, discount codes to your shop, etc.) To download it they will have to go to your page and put in their email address.
Your subscription list is gold. There you will already have them as your 'hot leads', which is often the term used in online marketing. From that state to becoming a client, there is only one step and it will depend on your expertise doing email marketing.
7. Publish your data offline
If you have an expensive product or service, you will have to work hard on your reputation and credibility on social media networks to get sales or clients. But there's a lot of tricks you can use to overcome this challenge.
A good option in social media networks is to add your offline data such as address, company name, telephone, fax, email, etc. Let them see that you exist and that you can be found somewhere. That gives the audience a lot of confidence and will eliminate some of the pain points they may have.
8. Take advantage of direct messages
How many times have you followed someone on Twitter and they have sent you a direct message? Take advantage of direct messages on Twitter to get closer to your clients. Don't miss any more opportunities! Use that message to offer something of personalised value (where possible): a lead magnet, an offer, a discount, a content, etc. That message will be read for SURE, so try to make the most of it.
On Twitter you can be more open and the guarantee of success is not very clear, but on LinkedIn, if you work hard on the message and wrap it in a tremendously professional context, you can find gold.
Tip: don't forget to personalize these messages. It can be a bit laborious, but the leads, sales or requests for quotation will increase dramatically.
9. Utilise special dates and events
Father's Day, Valentine's Day, Christmas, etc. During these special events, your audience tends to bring out more of their emotional side. This makes them very active on social media networks and are very open with engaging with other people. Social media networks and special dates are a magical combination. Take the opportunity to launch a promotion or contest that generates engagement and everyone who participates will be a little closer to the line that separates clients from simple users.
10. Participate in groups, communities, chats, etc.
Interact in those places where your potential client can be found. Participate tirelessly in LinkedIn groups ‒always with meaning, and share your articles in the famous Google + communities or in the same Facebook groups. To know which ones to participate in, search each social network for the keywords for which you think your client could find you and see the results that come out. The groups you are looking for are there.
11. Use funny #hashtags
Use fun hashtags to attract clients on your social networks. Hashtags are all the rage. Before, we only saw them on Instagram and Twitter, but they have already spread to other social networks and have become a very common resource.
It is recommended that you take advantage of this fact and to generate engagement and build a brand image, play with the opportunities that the networks are giving you. Use #hashtagsdifferent to get the attention of users and they are tempted to follow your game by seeing interesting publications with such a cool and unique hashtags.
12. Practice social media networking or delegate this task to a social media specialist
Doing a good job on social media takes training, time, effort, and a lot of commitment. Developing a good social media strategy requires a number of skills that not everyone has. To put your network in the best hands, you have two clear options: Get good training to manage your own brand's social media or entrust it to a professional expert.
13. Combine the above
In this article we've given you some tips and strategies to attract clients on social media networks, but if you want them to gain strength, and see the results immediately, the best you can do is combine them with each other. For example, why don't you run a contest and promote it with Social Ads? The possibilities are enormous.
14. Don't forget to measure
Try all the strategies you can and measure the results. With them you will see what works best in your audience, what they like the most, what less, what type of publication generates more visibility, which one brings you more subscribers. And, obviously, the one that has given you the most clients will be the one that you will need to resort to and develop even further.
There are great tools for statistically tracking social media. Measure the results of your strategies in social networks to choose the most appropriate. Run, measure, analyze, assess, design, and rerun until you hit the right key!
Now that you have all the tips you need to get more subscribers on social media, this infographic below should hopefully make it easier to follow: