How Is The New Instagram Algorithm Affecting Your Marketing Strategy?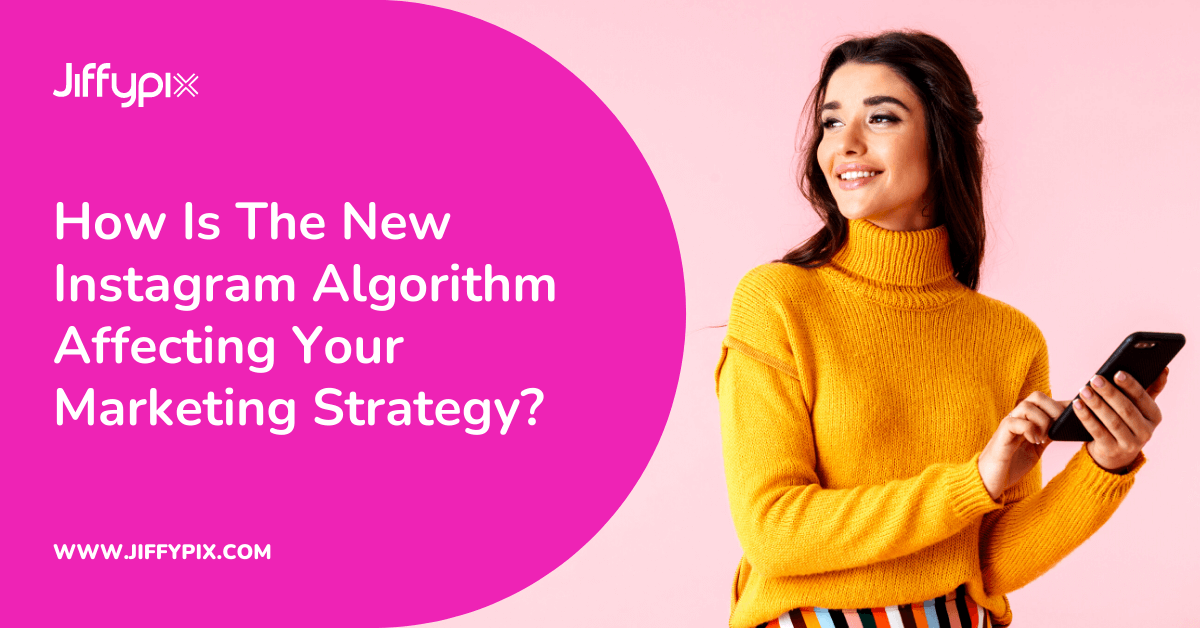 How does it work, what rewards, and what punishments does it have for its users? Learn how the social network works and make your business appear at the top of the feed.
Instagram is the perfect place if you're looking for your content to get noticed and have great visibility. Whether you want to use it for your Brand's advertisements, promote a business, create an online community, drive traffic to a website, or even reach more audience to offer your Professional Services.
Instagram is constantly renewing and implementing new features for its users and for profiles of companies. One of the areas that have been recently modified is its algorithm. And by understanding how it works and learning the ins and outs, your Instagram account will be favored by increasing its reach, increasing the probability of interacting with followers and of course, generating greater opportunities to achieve conversions. 
Instagram algorithm, what is it?
The Instagram algorithm is programmed so that the consumer sees what they want to see. How? The application performs an analysis of the person's habits, building a profile based on the users with whom they constantly interact and the publications that they comment, share, save and like.
How does it work?
With this formula, everyone receives different content, which is also ordered differently based on each person's preferences. Thus, it is estimated that when you post something, Instagram shows it to only 10% of your total followers and depending on the interactions it will expand the reach, because it considers your content to be relevant. That is, the more interactions, the higher you will appear in the feed, the more people will see your content, the more interactions and followers you will gain.
To make it simple, the algorithm formula needs to be analysed to better understand some criteria where it has been based. This way, you can tailor your Business' content & marketing strategies according to your desire.
Tips for taking advantage of the new Instagram algorithm

1. Be flexible with your posting schedule
You should know that successful posts on Instagram that get a lot of likes and engagements don't just happen because you have good quality content, and post on a regular basis. The best time to post is during a time when most of your followers go online. You can always check out Instagram's Statistics section to find out the busiest hours of your followers.
2. Maintain your followers interests
Instagram algorithms are rewarding content that keeps users interested and promotes interactions. So creating images, coming up with some pieces of text that keep the users engaged, posting funny videos, or interesting things that will impress your followers is always going to be best practice.
3. Create interaction with other users
Always use Call to Action on every piece of your content. Simple questions along with an image or a video will always encourage one to respond and that will initiate other users to engage as well.Try to find ways to generate a dialogue or even better, a direct message.
4. Take advantage of Stories
Posting short but catchy stories always invites people to have a sneak peek into your feed. If you have a post that has not been noticed on your feed, you can always add them into your Stories. As much as possible, make sure to add locations, and hashtags, use trending GIFs or phrases as it has always been proven to feed the users curiosity, leading them to check out your stories.
How can your Business win the battle against the algorithm?
The new Instagram algorithm bases the greater or lesser affinity with the content. Your success on this platform to get more target audience would depend on the quality of the content you are posting and the relationship you build with your followers.
A) Quality
It is easy to fall into the error and think that the more posts you make, the more visibility you will have. But as with Facebook, the algorithm rewards quality over quantity.
B) Relationship
The second premise that you must take into account is the interaction with your audience. You must build your strategy on Instagram as a way back and forth, not only to spread content, but to interact with your followers: answer their comments, comment, follow other accounts … in short, be aware that the more interactions you get, the better your positioning will be. .
A good option is to propose content such as contests, challenges, questions … All these are types of dynamics that increase the participation of your audience.
IG Reels for Businesses
On Instagram,  this is the latest trend used to give entertainment to its users. It's a way for people to discover content that is relevant to their interests. The Instagram algorithm displays and prioritises those contents that it believes users will be most interested in upon their access to the Reels tab, giving them a more enjoyable experience while browsing.
In addition to directly surveying its users on which type of content they would like to see, Instagram created a prediction series helping it to determine which Reels have higher probabilities of getting likes and shares, either by the music it plays, the content it displays, or for other reasons.
To give you a better idea, Instagram is also observing the following information to determine how relevant the Reels are to a user:
It looks at which Reels a user has liked before, which Reels they have interacted with or commented on. This now gives their program an idea of what type of content the user will be interested in.
Interaction history with the user who posted the Reel.
You may not be following someone on Instagram but since you have made an interaction with a Reel they have posted, or commented on in the past, Instagram interprets this user's content as something relevant to you.
Information such as the song title, the image interpretation based on the pixels and frames used, how popular the video is, are also being considered by the algorithm before deciding whether or not a Reel is going to be relevant to a user.
Personal information of the user who posted the Reel.
How famous or popular a user who posted the content is also taken into consideration. It doesn't only look and favour those famous creator's Reels, but also observes the small content creators to give equal chances of reaching a larger group of audiences.
New considerations to keep in mind  
It is not enough for Businesses or Brands who are promoting through this platform to just have interesting content to post, since the Instagram algorithm is constantly adding good practices to reward users.
Not too long ago, Instagram started a campaign to eliminate false followers who comment, like and follow accounts so that they get more popularity, which is why it now adds new penalties on the following:
the App will punish those users who take a long time to respond, limiting the visibility of the publications in the feed and in the stories.
responses such as "nice picture", "like" etc, the social network will classify them as spam, so they will not be considered as interaction.
the longer they are, the better they will be evaluated, since they will be considered as a genuine interaction.
Those that are very generic will be considered similar to the rest and will be lost among thousands of publications, so they recommend creating your own keywords.
in addition, they must be related to the content of the publication to generate greater engagement.
will be penalized, because they are considered a quick response
if you edit or delete the text that accompanies your video or photo after publishing it, the application will also limit your appearances.
publishing an image, downloading it and uploading it again will be considered as a technique to appear more, for which it will also be penalized.
Conclusion:
The new Instagram Algorithm is meant to give the best overall user experience. If you really want to build stronger connections with people online and establish a great online presence, you don't really have to become a genius and try to outsmart the system. Yes, that might give a short-term success for some but it's not really going to last. Is that what you really want? The secrets to creating a sustainable Instagram engagement is just being Authentic and Transparent. Focus your energy on building a great rapport with your audience and always come up with quality and fresh content! Next time, you won't need to worry about Algorithm updates anymore.