10 Types Of Awesome Visual Content That You Can Use To Publish On Your Blog Posts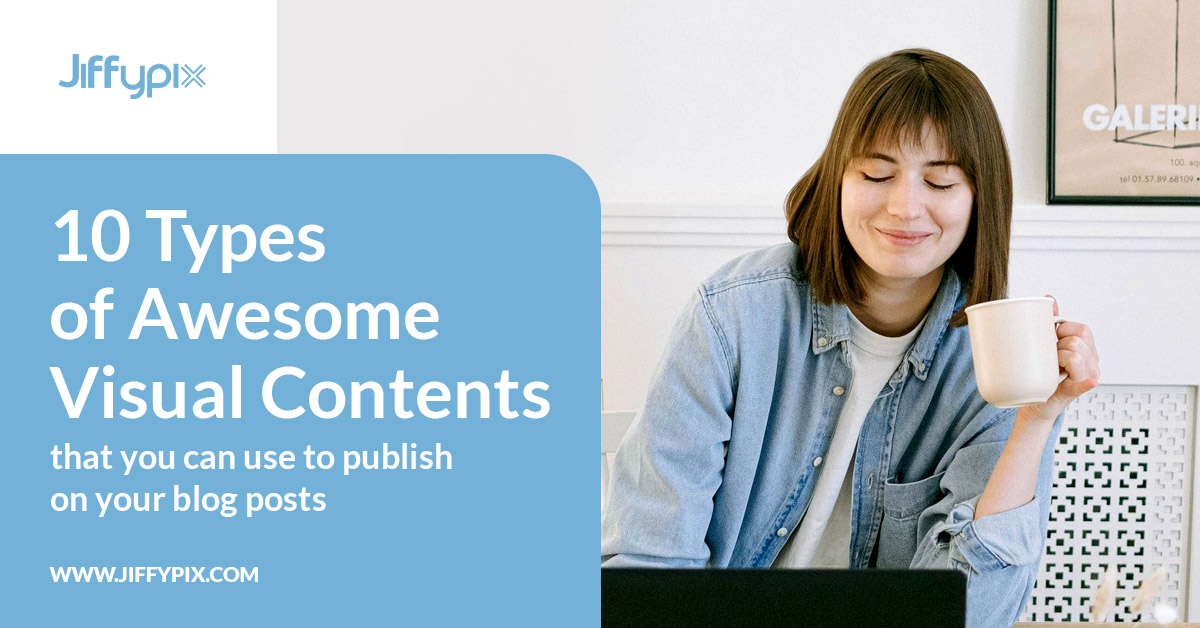 How often have you thought about what are the best image or visual contents to use in an article for your website or blog?
Many times we find it difficult to choose visual content to complement our text content. It is important to bear in mind that for a successful publication, you must have a large amount of quality visual content.
With the great technological advances we are experiencing, we must not forget that the way we receive information is changing, we no longer stop to read all the news as we did before. Without a doubt, the visual elements are the easiest to perceive. For this reason, currently, users scan the text, first going through the visual content and then stopping on a keyword that encourages them to read.
Recent studies showed that images help people remember the things they read; and many times the visual content helps to better explain complicated concepts that may be more difficult to understand with the text alone. Given the importance of visual elements, here are the following:
1. GRAPHICS
---
If you want to be a recognised pioneer in your industry, you have to start creating data-driven content. Bar or pie charts can make it easier for your audience to understand the message, being a good complement to the text. It's very true that posts containing data and statistics may not have great visual appeal. However, graphics are very valuable from an educational and business perspective.
Additionally, netizens love to share the latest news and information that has been well researched and is visually impressive as well. Therefore, if you want to create engagement and increase user interaction, do not hesitate to use graphics on your posts.
2. INFOGRAPHICS
---
To create a successful infographic, it has to be aesthetically pleasing and with relevant data , it must be easy to use, and that at a glance the user can collect the information without problem. Undoubtedly, infographics will help increase your brand awareness, they will help increase backlinks and traffic, number of shares on social networks, which will help you increase your SEO. Also, infographics offer possibilities for various platforms beyond your blog.
If multiple components are present in the infographics, you can cut out parts of it to create visual content for your different social networks such as Facebook, Instagram, Twitter or LinkedIn. Remember that it is not necessary to write infographics with extensive contents. One or two sentences is usually enough to present the information by complementing it with the images you insert. Remember to use keywords and voila!
3. VIDEOS
---
The importance of videos in content marketing is increasingly present. It is clear that there is no better way to communicate a message than video since we include everything in the same format; images, sounds and text. Undoubtedly, users increasingly prefer to consume videos when looking for any type of information. Therefore, it is important to incorporate and / or create videos for our posts and to be creative about the type of content that your audience loves to consume.
4. PHOTOS / IMAGES
---
It is clear that good content marketing must include images. Photographs are the visual element par excellence. Whether they are images from stock or own, they must be of quality. Consequently, it is vitally important that the sizes of your image files are optimised for your website, since files that are not optimised negatively affect the loading of the site, therefore, they harm the user experience of your page.
It is important not to commit the common mistake many bloggers make. And that is to use random images instead of those related to your posts. Of course, it takes a little more time and work to find relevant images with your content, but in the end it is worth the time invested and is something that users capture and recognize.
5. CINEMAGRAPHS
---
Surely on more than one occasion you have seen a Cinemagraph, either in advertising on Instagram or on other networks. But what is also certain is that, either you have not noticed, or you have thought it was a video. Cinemagraph is an image but in motion. That is a static image in which a piece of the image is replaced by an animation that is repeated in the form of an infinite loop. The idea is that it is a complete photograph with few moving elements (normally it is not customary to move more than three elements) and that its main objective is to capture the user's attention and get it into the photograph.
The first reaction of the reader captured through the cinemagraph is to think that what he is seeing is a photo. But after staring at it for 3 seconds, the brain signals that there is something different about it compared to a normal photo. There is a movement! -Something that surprised the readers as it was not expected. This instantly triggered their emotional feeling.
Use of Cinemagraphs are now becoming popular on websites and blog posts since the results are very positive and the attention of the potential client is immediately captured. This visual content is a very attractive alternative to images since they have movement in a part of the image, which makes users spend more time on browsing your website or blog
6. SCREENSHOTS
---
Screenshots can be the simplest way to create images for your blog posts. They are one of the most effective means of teaching or reflecting something. Screenshots are one of the most used visual content when creating guides or tutorials. Adding images of screenshots to your blog posts is very useful especially when you are trying to provide complex tutorials. Written text alone is not sufficient and readers tend to prefer articles with added screenshots for them to easily follow.
Most of the time they're very easy to generate. You can find a lot of free online tools that are able to reproduce the image on the screen, even add some annotations, highlighting concepts or even drawing small diagrams that facilitate training tasks, tutorials and corrections, basic shapes / arrows or explanatory text to better convey your message.
7. GIFS
---
The GIF is a type of animation formed by a series of frames. They are more dynamic than conventional images and are usually extracted from clips or videos. GIFs capture the attention of users by making the concept easier to understand. Placing a banner in GIF format can be an opportunity to highlight what you want users to focus on and get more chances for users reading your articles. All the content that you include in the articles of your blog you can animate them with GIF format to give them more visibility.
In addition, they can help to give you notoriety and generate engagement with your target audience. Here are some reasons why you should use GIFs in your posts :
The weight of the files is considerably less than that of a video, so with uploading or downloading, it does not consume much space.
They provide a professional environment that indicates that company workers understand and control internet trends.
They convey emotions. They are empathetic content that helps you connect with your followers from an emotional approach.
They are easy to consume and share on social networks.
It is a format that is used to attract the eyes of many users.
Fast Playback: allows automatic playback of the image.
8. ILLUSTRATIONS
---
Illustrations can help your website or blog posts stand out from the broader world of photos. It is essential that the illustrations that we incorporate are professional and that in some way they reflect the tone and the message or messages that you want to convey with your brand. It is unquestionable that illustrations contribute to a lasting impression, and this impression is your brand. Therefore, it is a type of visual content that is increasingly used in terms of content strategy.
9. MEMES
---
Obviously, you want your posts to be noticed. Therefore, a touch of good vibes must be added to them, and memes will surely do the trick for you! If the industry you belong to is already monotonous, then your articles should definitely not be even more tedious. For this, memes are a good resource that can lighten up your reader's mood due to its humorous nature.
Memes are made up of more peculiar photographs and / or illustrations , thus a product or a service can be skillfully promoted by awakening a good sense of humor in the users.
10. SLIDESHARE PRESENTATIONS
---
Presentations are a great visual addition to your blog. SlideShare presentations help users to find an answer to your questions. In such a way that when creating a presentation we must simplify and be clear with the content that we are going to place within it.
In conclusion, If you want to generate more traffic on your website or blog, it is best that you start using all kinds of visual content in your publications. Remember that it is very important to only use visual elements that are related to your content and avoid using images that you just grabbed online. It's purpose is to draw more attention to your post and let your audience enjoy reading the rest of your content.
Most of the time, this happens to be an opportunity lost by using boring, irrelevant images, or no visuals at all. Even the positioning of the images can affect whether a reader proceeds to scroll down to your headline, or decides to just click on the back button on their browser.